If your doctor refers you for a fetal echocardiogram for a suspected heart problem with your baby, there are three things you need to know: that congenital heart problems are very rare, occurring in just eight of 1,000 babies; that even if a heart condition is detected, your baby is safe; and because of advances in medical and surgical technology, the majority of heart problems identified in utero can be treated effectively after birth (or later in the child's life). Drs. James Nielsen and Laurie Panesar explain more about how fetal echocardiography works and why it is an important tool for early detection of potential heart issues.
When would I need fetal echocardiography?
Most often, an obstetrician (OB) determines whether a fetal echocardiogram is needed. Common reasons for referral include: the presence of a suspected heart problem detected during a routine OB ultrasound, maternal diabetes, abnormal first trimester screening suggesting the possibility of a genetic syndrome in the baby, a history of structural heart disease in a close relative such as a parent or sibling, twin pregnancy and maternal autoimmune disease such as lupus or Sjogren's Syndrome.
What does the test entail? Is it safe for my baby?
A fetal echocardiogram is a very safe, non-invasive test that uses ultrasound technology to zoom in on the baby's heart through the mom's belly and the chest of the fetus. It is performed on an outpatient basis and takes anywhere from 30 minutes to an hour. At Stony Brook Children's, every patient meets with a pediatric cardiologist to discuss the results immediately following the test. If a problem is uncovered, our team will spend as much time as necessary with you answering your questions, putting the results in perspective and connecting you to any other experts you might need.
What else does Stony Brook Children's offer?
The Pediatric and Fetal Echocardiography Laboratory at Stony Brook Children's Hospital is equipped with the most specialized fetal cardiac ultrasound equipment available today. We are accredited by the Intersocietal Accreditation Commission (IAC), the most rigorous accrediting body in the country. What distinguishes our group further, however, is the expertise of our physicians and the approach we take with families.
It is important to understand that the performance and interpretation of a fetal echocardiogram is dependent on the quality of the imaging and experience of the interpreting physician. The baby's heart may only be 2 cm in size, with very thin cardiac valves. It takes time, experience and diligence to make an accurate diagnosis, especially to identify subtle abnormalities. Our doctors have performed 750 fetal echocardiograms in the past four years, and more than 2,500 during their careers. In medicine, high volumes are associated with high quality. The more we see, the more we know what to look for — making it easier to determine what is normal and what is not.
We strive to provide the highest level of compassion and support during our fetal consultations. We limit the "wait time" for appointments by offering same-day (and even after-hours) appointments. Our clinical team meets with each patient to review the results immediately, taking whatever amount of time is needed to answer the family's questions. Since we specialize in pediatric heart problems, we have the experience and expertise to answer these questions in detail. Our consultations are held in a comfortable and family-like setting, aiming to minimize anxiety. In addition, because we are a children's hospital and an academic medical center, we have more than 30 pediatric specialists who can come onto the child's team, if needed. Our Neonatal Intensive Care Unit (NICU) and maternal-fetal medicine program for high-risk mothers and babies ensure the availability of advanced care at delivery and beyond. This combination of high-level specialties means mothers and babies can get the appropriate care close to home with no need to travel out of Suffolk County.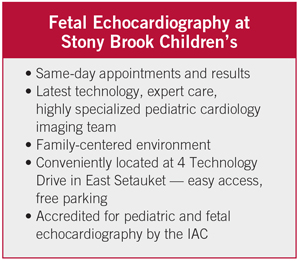 For more information about Stony Brook Children's, call (631) 444-KIDS.
All health and health-related information contained in this article is intended to be general and/or educational in nature and should not be used as a substitute for a visit with a healthcare professional for help, diagnosis, guidance, and treatment. The information is intended to offer only general information for individuals to discuss with their healthcare provider. It is not intended to constitute a medical diagnosis or treatment or endorsement of any particular test, treatment, procedure, service, etc. Reliance on information provided is at the user's risk. Your healthcare provider should be consulted regarding matters concerning the medical condition, treatment, and needs of you and your family. Stony Brook University/SUNY is an affirmative action, equal opportunity educator and employer.