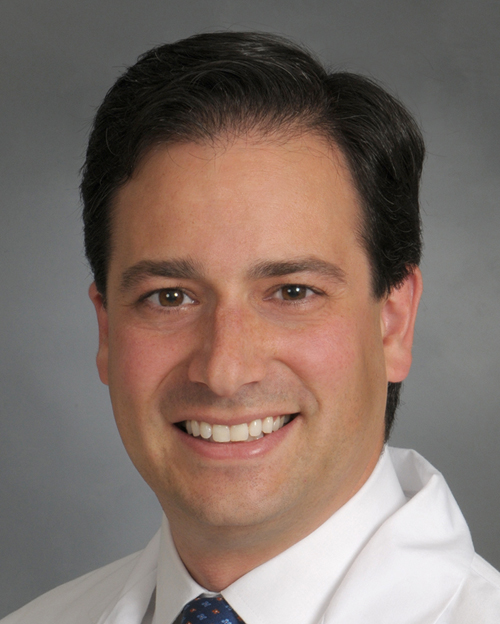 Bradley Morganstern, MD
Gastroenterologist
Division of Gastroenterology and Hepatology 
Stony Brook Medicine
March marks National Colorectal Cancer Awareness Month. Colon cancer causes more than 600,000 deaths annually worldwide and is the second-leading cause of cancer death in the U.S. However, with timely screenings, this cancer can be prevented. Dr. Bradley Morganstern, a board-certified gastroenterologist in the Division of Gastroenterology and Hepatology at Stony Brook Medicine, talks about what people need to know about screenings for this disease.
What is the most important thing to know about colon cancer?
Colon cancer is a preventable disease. It begins with small growths called polyps which grow over time and develop into cancer over a period of seven to 10 years. Before a polyp becomes cancer, it can be easily removed with a colonoscopy. Polyps are typically asymptomatic, so it is important to follow age-appropriate screening guidelines to detect and remove polyps well before they ever become cancer. One in three individuals who should have colon cancer screening has not. It is very important to know when you should schedule your first colonoscopy and follow-up colonoscopies.
Who should be screened?
Men and women with no family history of colon cancer should have their first screening colonoscopy at age 50, then every ten years after that if no polyps are found. If polyps are found during a colonoscopy, then the next exam is typically scheduled three to five years later depending on the size and number of polyps.
People with a family history of colon cancer should start screenings at age 40 or 10 years earlier than the age that their relative had colon cancer, whichever is earlier. There are also studies which suggest that African-Africans have a greater risk of colon cancer and should start screening colonoscopies at age 45. Some societies, including the American Cancer Society, have suggested starting colorectal cancer screening at age 45 for all adults, but these recommendations are not considered standard of care at this time.
Colon cancer has been rising in younger individuals as well. Any individual with symptoms such as rectal bleeding, abdominal pain or unexplained weight loss should discuss these symptoms with his or her gastroenterologist. The gastroenterologist may advise having a colonoscopy, regardless of current age or family history.
How are polyps found?
There are several screening tests available to find colon polyps. Optical colonoscopy, which uses a long flexible tube with a camera, is considered the gold standard because it is the only test that can both identify and remove polyps during the same procedure, and gives the most complete examination of the large intestine.
In order for the gastroenterologist to have an adequate examination of the colon, the bowel must be cleansed using a laxative. There are many bowel preparations available, several of which are low volume and easier to take than bowel preparations used just a few years ago. Colonoscopies are performed using deep sedation administered and monitored by a board-certified anesthesiologist. Colonoscopies are performed as an outpatient procedure, and patients may return to their regular schedule the following day.
Stony Brook Medicine also offers other screening methods including flexible sigmoidoscopy, fecal DNA testing (Cologuard®), CT colonography (virtual colonoscopy), and fecal immunochemical testing (FIT). Patients interested in these alternatives should schedule an office consultation to discuss the advantages and disadvantages of each.
What distinguishes Stony Brook's approach?
As an academic practice, we pride ourselves on following the most up-to-date guidelines for colon cancer screening and surveillance. We have multiple options for bowel cleansers to make sure that patients have the best exam possible with minimal discomfort. We use the most current Olympus® colonoscopes which provide a high-definition image to detect subtle polyps. Our polyp (adenoma) detection rates routinely exceed the national average.
If you are over age 50 and have not yet had a colonoscopy or are due for a repeat screening colonoscopy, you may be eligible to schedule one without an office appointment by calling Stony Brook's Direct Access Screening Colonoscopy Program at (631) 444-COLON (444-2656).