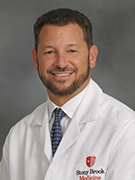 Bradley Trivax, MD, is double board-certified in obstetrics and gynecology and reproductive endocrinology and infertility.  An honors graduate of the University of Michigan, Dr. Trivax earned his medical doctorate at Wayne State University School of Medicine and completed his residency training in obstetrics and gynecology at Winthrop University Hospital. Dr. Trivax completed his subspecialty fellowship in reproductive endocrinology and infertility at UCLA Medical Center and Cedars-Sinai Medical Center, where he was the recipient of the Outstanding Laparoendoscopic Award. Dr. Trivax excels in minimally-invasive surgical treatments for the management of fibroids, endometriosis, and uterine abnormalities. 
Dr. Trivax is a clinical instructor at both Stony Brook University Hospital and Winthrop University Hospital.  He is a member of the American Society for Reproductive Medicine, the Society for Reproductive Endocrinology and Infertility, the Nassau County Obstetrics and Gynecology Society, and the American College of Obstetricians and Gynecologists, and the American Association of Gynecologic Laparoscopists.  He serves on the board of the patient advocacy group, Path2Parenthood.
Dr. Trivax is a huge advocate for the LGBT (Gay/Lesbian/Bi/Transgendered) community and offers sensitive fertility treatment plans to address their various needs. He is a supporter of the Family Equality Council and has helped hundreds of LGBT couples and individuals start their families.
A scientist at heart, Dr. Trivax has conducted considerable original research on women's health issues such as polycystic ovary syndrome (PCOS), the treatments of fibroids infertility, adhesion therapies as well as research in the area of sexual health. Additionally, he frequently lectures both nationally & internationally on all aspects of fertility treatments.
Born in the Midwest, Dr. Trivax fell in love with Long Island during his residency and settled here with his wife to raise their 6 children.  He works with his staff to streamline the complex world of infertility for his patients so they are more comfortable with their options and with their treatment.  He is fluent in English, Spanish, and Hebrew.