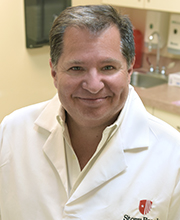 Dr. Alamia came to medicine after 8 years of running his family's food business. He lost a child to a severe heart condition and decided that he would spend his life pursuing a career where helping and improving patients' lives are his primary focus.
He then started college at SUNY Stony Brook, where he was accepted into the Scholars for Medicine program and received early admission to Stony Brook medical school. He did his Ob/Gyn residency at Stony Brook and when done, joined Hamptons Gynecology in Southampton. He is chairman of Ob/Gyn at Southampton Hospital, a fellow of ACOG, a diplomat of the American Board of Ob/Gyn, and a founding member of women's health professionals. He has been voted a patient choice award and most compassionate MD award every year since 2009.
True to his original goal of a life pursuant to helping people, once a year he travels the world with ISMS to operate for free in third world countries. He has been an active board member since 2003 and has been to Brazil, Peru, India, Egypt, Honduras, Nicaragua, Kenya, Zambia, and Chile. His interests include minimally invasive surgery, high risk obstetrics, and ultrasound.
Education and Training:
State University of New York at Stony Brook, SUNY / Stony Brook School of Medicine
Residency: University Medical Center / Stony Brook