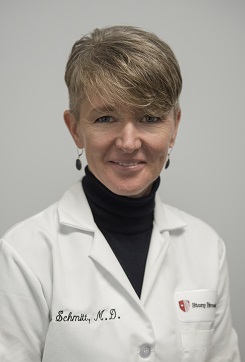 Dr. Schmitt attended the State University at Stony Brook and received a bachelor of science in 1990. She then attended medical school at the State University of Syracuse, graduating in 1994. She completed her residency in obstetrics and gynecology at Baystate Medical Center in Springfield, Massachusetts, where she also served as the ACOG Massachusetts Junior Vice Chairperson.
She joined a private practice in Springfield and remained as an attending for three years, before returning to New York in 2001. Dr. Schmitt started East End Women's Healthcare, PC in 2003 in Hampton Bays and has been providing gynecological services to women on the east end since then. In June of 2015, Dr. Schmitt proudly joined Hamptons Gynecology and Obstetrics. She is continuing to give the same level of care out of the Hampton Bays location.
Dr. Schmitt has been board certified since 2001 and is a Fellow of the American College of Obstetrics and Gynecology. She is also a board member of the international Surgical Mission Support and travels yearly to developing countries to perform gynecologic surgery on the underprivileged. Her interests include health and fitness, adolescent gynecology and minimally invasive surgery.