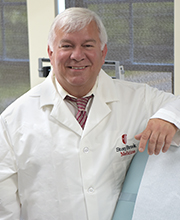 Dr. Pedro R. Segarra was born in Cuba, but has lived in New York since 1968, where his father, an Obstetrician/Gynecologist, established a Private Practice in Obstetrics and Gynecology.
Dr. Segarra attended Columbia University in the City of New York, and graduated in 1979 with a Bachelor of Arts degree. He then attended New York Medical College, from which he graduated in 1983, and completed Residency Training in Obstetrics and Gynecology at Lenox Hospital in New York City in 1987.Dr. Segarra entered Private Practice with his father in 1987 and continued as Attending Physician, Senior Medical Staff, Lenox Hill Hospital in New York City, until 2011. While at Lenox Hill Hospital, Dr. Segarra served on the Residency Advisory Committee, the Executive Committee of the Lenox Hill Hospital Healthcare Network, and the Administrative Board of the Hospital Physician Hospital Organization where he served as Chairman of the Membership and Contract Committees. Dr. Segarra was President of the Hugh R.K., Barber, M.D. Alumni Society from 1996-1999, and has been a Fellow of The American College of Obstetrics and Gynecologists since 1993. In 2006, he was named to Castle Connolly's Top Doctors in the New York Metro Area.
Dr. Pedro R. Segarra became Board Certified in OB/GYN in 1992, and has been recertified by the American Board of Obstetrics and Gynecology annually since 2003. In 1996, he was certified by the Accreditation Council for Gynecologic Endoscopy. In addition to delivering babies, Dr. Segarra developed special interest and advanced skill in vaginal and reconstructive pelvic surgery and breast diseases. He ran the GYN Breast Clinic at Lenox Hill from 1991 to 2001.
Dr. Segarra relocated to Southampton to join Hamptons Gynecology and Obstetrics in 2011.
Education and Training:
BA, Columbia University, New York Medical College
Residency: Lenox Hill Hospital
Board Certified
American Board of Ob/Gyns