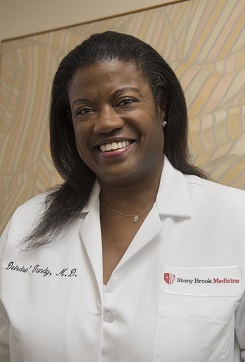 Dr. Gundy is a native New Yorker recently returning after 26 years in practice in Pennsylvania. Dr. Gundy attended St. Johns University in Queens where she graduated with a bachelor of science degree. Dr. Gundy attended Hahnemann University School of Medicine in Philadelphia where she graduated with honors in 1992. She completed her residency in obstetrics and gynecology at Hahnemann University Hospital in 1996 and was board certified in 1998. She is a fellow of the American College of Obstetricians and Gynecologists. She continues annual recertification with the American Board of Obstetrics and Gynecology.
Dr. Gundy was an assistant professor of obstetrics and gynecology at the MCP-Hahnemann School of Medicine in 1998-2002. She implemented a minimally invasive gynecologic surgery program at Mercy Philadelphia Hospital in 2012 while continuing to provide surgical training for the Drexel University College of Medicine Obstetrics and Gynecology residents.
Dr. Gundy believes in comprehensive care for women including mind, body and spirit. She has an interest in pediatric and adolescent gynecology, conservative management of fibroids, PCOS as well as minimally invasive surgery.
Education and Training:
Hahnemann University School of Medicine, 1992
Residency: Obstetrics and Gynecology at Hahnemann University Hospital, 1996
Board Certified, American Board of Ob/Gyn