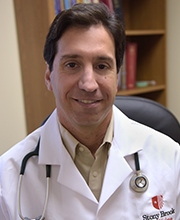 Dr. Bakas is the son of Greek immigrant parents. He grew up in the Hamptons, until going to Rutgers University for undergraduate school. While in college he was premed and participated in athletics. After medical school, Dr. Bakas did a one-year rotating internship and a four year Ob/Gyn residency at Lutheran Medical School.
Dr. Bakas was in private practice and founded a prenatal care center in Westchester, NY. There he provided prenatal care and delivered several thousand patients over those twenty-one years. He has been involved in doing advanced laparoscopic procedures since his residency and performs all types of gynecological surgeries.
Dr. Bakas has been on multiple utilization review and safety committees throughout his career. He was also a core member of the Obstetrical Safety Initiative with his hospital for three years.
Having joined Hamptons Gynecology and Obstetrics in the summer of 2016, Dr. Bakas hopes his patients are comforted by his wealth of obstetrical experience, individual patient-centered care and kind-hearted demeanor.
Education and Training:
NY College of Osteopathic Medicine
Residency: Lutheran Medical Center, Brooklyn, NY
Awards: "Patient's Choice Awards" for 2009-2011, America's Most Compassionate Physician Award 2010-2011, America's Top Obstetrician and Gynecologist 2007, America's Best Obstetrician and Gynecologist 2016.