One of our most unique affiliations is the Stony Brook Health Outreach and Medical Education clinic (SB HOME), a student-run free clinic in Islip Terrace. Its doors opened in 2008 to provide medical examinations, health education and social services to underserved and uninsured residents of Suffolk County.
The clinic operates two Sundays each month, providing primary care services and referrals for an average of 16 patients per clinic session. In addition to regular clinic days, there are Women's Health Days where the clinic focuses on the unique needs of our female patients. These include free breast and pelvic exams, pap smears, and STD screening. In addition to clinic, volunteers also participate in community health fairs where they provide preventative care (I.e., blood pressure, cholesterol and glucose screenings).
Since opening, the clinic has evolved into a multidisciplinary entity incorporating over 190 volunteers from the Stony Brook School of Medicine, School of Social Welfare, Program in Public Health and the undergraduate campus. Students handle the operational management of the clinic, which includes scheduling patients and volunteers, as well as managing the office. They also play a major role in clinical care as they conduct physical exams and create patient treatment plans.
SB HOME is proud to continue pursuing its mission of improving the health and well-being of the underserved community in Suffolk County by increasing access to free, dependable and comprehensive health services; empowering individuals and families through education and social services; and training future clinicians in culturally competent and compassionate care.
A special thank you to all of the Stony Brook attending physician and midwife volunteers who have precepted at clinic this academic year: Mersema Abate, Robert Bobrow, Barbara Boccia, Nancy Bowden, Lauri Budnick, Kamalpreet Buttar, Marina Charitou, Heather Findletar, Maria Fisher, Amy Hall, Joanne Holland, Christina Maxis, Goldie McBride, Jeanine Morelli, Asha Patnaik, Sarah Pestieau, Jedan Phillips, Nadia Ramesh, Eva Swoboda and Jonathan Tolentino.
If you are interested in precepting in the clinic, making a donation to help fund the important work they do, or have any further inquiries, please e-mail stonybrookhome@gmail.com or visit their website at stonybrookhome.com.
Reuven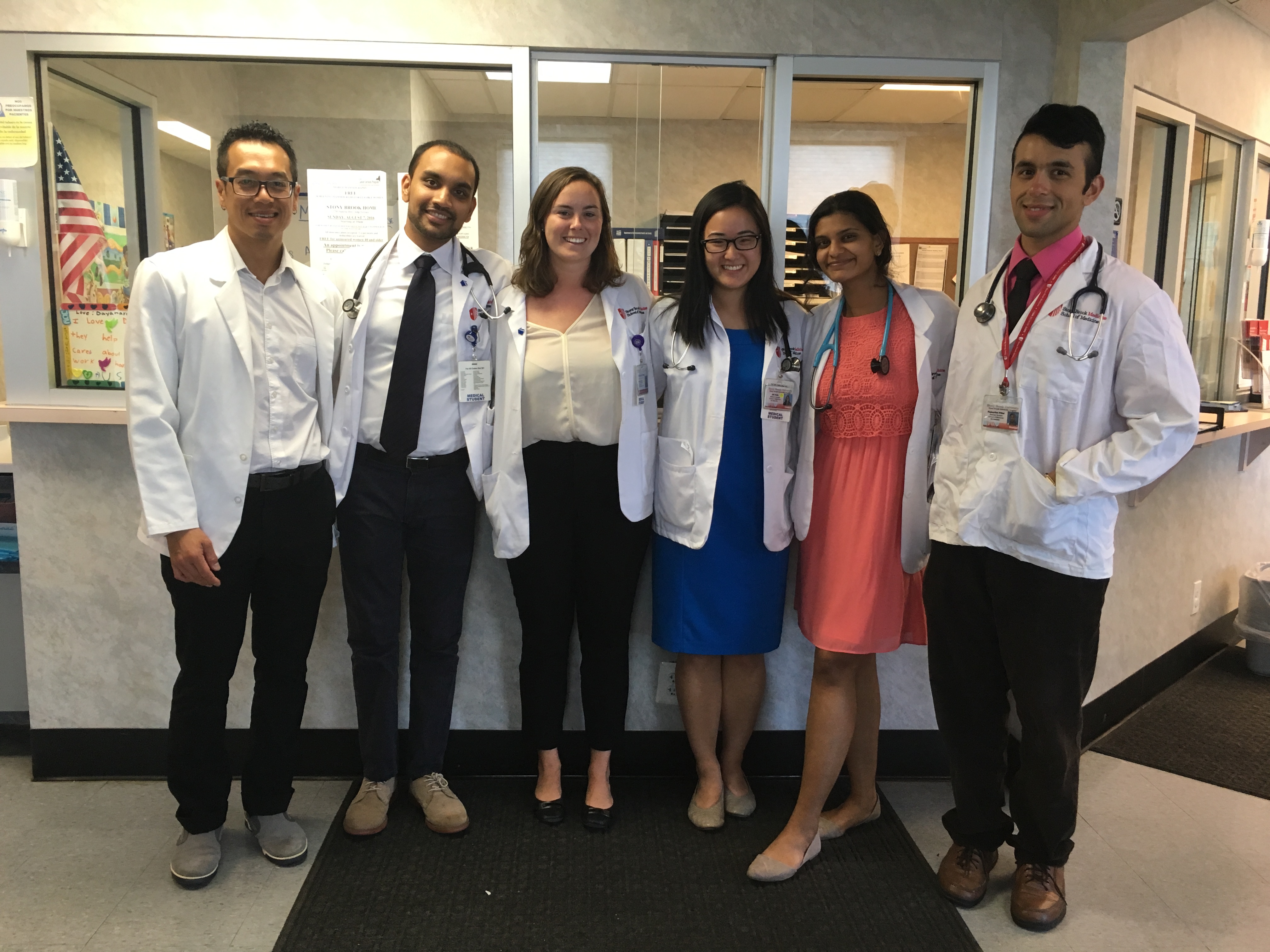 From left to right: Tran Nguyen, fourth-year medical student; Kiran Lorick, second-year medical student; Amanda Owens, second-year medical student; Jill Hsia, fourth-year medical student; Meghana Anugu, fourth-year medical student; and Rajapillai Pillai, MD/PhD student.