One of our little-known culinary assets at Stony Brook Medicine is our rooftop garden on the third floor of the Health Sciences Tower. From "farm to bedside," we grow veggies and herbs for our patients on site.
An elevated micro-farm, "Stony Brook Heights" uses only organic gardening methods to produce loads of vegetables and herbs, which are then used to supplement healthy patient meals at Stony Brook University Hospital. The hospital kitchen serves between 1,800 and 2,000 meals per day, sharing the bounty of the farm with patients, and the wholesome nutrition that comes with it.
This year marks the third harvest for "Stony Brook Heights," and the first for the farm's new location on the third floor roof, with ample sunshine and room to grow. The new plot is the biggest yet, boasting 36 raised beds and allowing for 2,242 square feet of gardening space to be filled with an array of colorful, fresh, organic vegetables and herbs.
The rooftop farm is overseen by Josephine Connolly-Schoonen, PhD, RD, Executive Director of Stony Brook Medicine's Nutrition Division. A Registered Dietitian and Clinical Assistant Professor of Family Medicine, her expertise is in the area of nutritional management of obesity and related chronic illnesses, such as diabetes, hypertension and heart disease, from both the individual and public health perspective. In addition, she directs a series of public health nutrition projects funded by the New York State Department of Health since 1994. The purpose of these projects is to establish policies and procedures in community agencies, such as schools, childcare facilities and worksites, to improve the quality of food available to clients served and decrease the prevalence of obesity.
While the Nutrition Division manages "Stony Brook Heights," a largely student volunteer corps helps the farm to flourish. With the additional space provided this year, the farm has been able to partner with the Stony Brook University Food Pantry to provide their Stony Brook students, faculty, and staff with fresh produce as well.
As it turns out, our role as a healthcare provider has sprouted in unexpected directions!
Reuven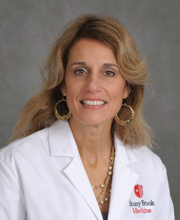 Josephine Connolly-Schoonen, PhD, RD