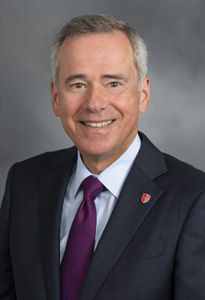 This is an exciting time at Stony Brook Medicine. We are embarking on an exciting new chapter at Stony Brook Medicine as we roll out our new strategic plan.
The new Stony Brook Medicine Strategic Plan serves as a roadmap for the future of our organization, outlining our path to advancing our mission of excellence in patient care, scientific discovery and education.
In sum, it represents our collective effort to drive positive change and further enhance the exceptional care we provide to our patients and communities. I am excited to share some details with you as we roll this out throughout the organization in the weeks and months ahead.
Our journey begins with our new mission, vision and values — pillars that guide us in our pursuit of excellence, transforming lives and making a positive impact on the world around us.
"We transform lives through scientific discovery, education and healthcare."
This mission statement embodies our unwavering commitment to making a profound impact on the lives of individuals, our communities and society as a whole.
Our new vision statement encapsulates our unwavering commitment to creating healthier and thriving communities through a unique combination of innovation, education and exceptional healthcare expertise.
"We bring together innovative research, advanced education and extraordinary healthcare expertise to set the standard for how healthy communities thrive."
The iCare values underpin our organization's mission, guiding our actions as we work toward transforming lives and define our culture.
"Integrity, compassion, accountability, respect and excellence."
These values are the bedrock of our organization and have served as guideposts throughout our planning process and the development of our five key priorities:
Workforce and Culture: This is our top priority — our staff and faculty are our greatest asset, and our collective capabilities and unwavering commitment will propel us forward as we foster a culture of collaboration, innovation and continuous learning.
Healthcare Delivery: Our commitment to delivering exceptional patient care remains unwavering, and we will leverage innovative approaches and technologies to revolutionize how we provide healthcare and enhance quality patient outcomes.
Research: Stony Brook University has a rich history of research excellence and innovation, and we are dedicated to fostering a culture that nurtures and supports these endeavors by providing robust resources, infrastructure and opportunities for collaboration.
Education: As an academic health center, education is a cornerstone of our mission. We will foster an inclusive learning environment, promote interdisciplinary collaboration and leverage emerging educational technologies to prepare the next generation of healthcare professionals to deliver high-quality, patient-centered care.
Resource Stewardship: We aim to achieve operational excellence by implementing streamlined processes, leveraging data and analytics, and embracing evidence-based practices that support the needs of a rapidly changing healthcare landscape.
We have a strong foundation of success at Stony Brook Medicine from which to build. As we look to the future, this plan will guide our initiatives and long-term planning.
This summer we marked the official grand opening of the first phase of Stony Brook Medicine's new Advanced Specialty Care at Lake Grove. I can think of no better way to highlight the vision of our academic health center than by acknowledging the newest addition to our ever-growing roster of community-based medical facilities. With this development, we are well on our way to meeting one of our strategic priorities to improve access to world-class healthcare at Stony Brook Medicine.
With the support of our community and all of us at Stony Brook Medicine, we will continue to meet the needs of our patients, students and all we serve. We look forward to the positive impact our new strategic plan will have on Stony Brook Medicine and our community.
Be well,
Hal Paz, MD, MS
Executive Vice President for Health Sciences
Stony Brook University
Chief Executive Officer
Stony Brook University Medicine