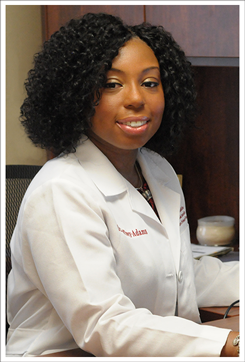 Dr. Gaffney-Adams is a board-certified internist with additional subspecialty training in infectious diseases. She previously worked as an Infectious Diseases Consultant at Stony Brook Primary Care and Stony Brook University Hospital. In addition to patient care, her responsibilities included education of medical students, resident physicians, and subspecialty fellowship trainees in the division of Infectious Diseases. Dr. Gaffney-Adams has been described as "incredibly patient" and is often praised by her patients for her warm, friendly and compassionate care. Patients can look forward to establishing a long-term care relationship with an accessible and trustworthy provider.
Education and Training:
Dr. Alexea Gaffney-Adams received her undergraduate education at Fisk University in Nashville, TN. She participated in the Howard Hughes Medical Research Program throughout her undergraduate studies. She graduated from Fisk University in 2002 Magna Cum Laude with a Bachelor of Arts in Biology and was awarded Departmental Honors in Biology for her academic achievements and extracurricular activities. Dr. Gaffney-Adams received her medical education at SUNY Downstate Medical Center in Brooklyn, NY. She earned her Doctor of Medicine Degree in 2007 and went on to pursue a career in Internal Medicine and Pediatrics. She completed a Combined Internal Medicine and Pediatrics Residency Training Program at SUNY Stony Brook Medical Center in Stony Brook, NY in June of 2011 and is Board Certified in both specialties. She was recognized by the Department of Medicine as the "Outstanding Resident Teacher" in 2011 for her efforts in medical student education. She then joined the Department of Medicine's Infectious Diseases Fellowship training program at Stony Brook Medical Center, where she was Chief Fellow. She completed her training in 2013. She holds the rank of Clinical Associate Professor within the Department of Medicine and Division of Infectious Diseases. Currently, she provides primary medical care, HIV/AIDS treatment, and outpatient Infectious Diseases consultation as a member of Stony Brook Community Medical PC. Currently, Dr. Gaffney-Adams utilizes her diverse skill set to provide comprehensive preventive medical care and treatment of acute and chronic medical conditions to a diverse population that includes high risk and medically complex patients. She is partnering with Stony Brook Medicine, Stony Brook internists and her esteemed colleagues at Stony Brook Extended Care in Centereach, NY.