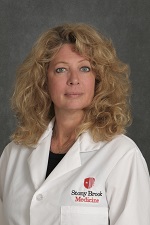 Connie Kraft, RN, MSN, MS, CEN, CNE,CHEP, NHDP-BC
Coordinator-MARO Regional Training Center
Office: Health Sciences Center, L1-143
Tel: 631-444 9074
Email: connie.cincotta-kraft@stonybrookmedicine.edu
About Me  
Connie Kraft, RN, MSN, MS, CEN, CNE is the Emergency Manager for Stony Brook University Hospital and the Metropolitan Area Regional Office (MARO) Regional Training Center Coordinator. A certified emergency nurse with an extensive background in trauma and emergency nursing, Connie completed her undergraduate nursing education at CUNY-Kingsborough, St. Joseph's College, and SUNY-Stony Brook, and is a member of the Sigma Theta Tau Honor Society for Nursing. She also holds a Master of Science Degree in Emergency Nursing and Disaster Management from Adelphi University, and a post master's degree in nursing education from Stony Brook University School of Nursing. Connie was on staff for several years in the emergency department at Stony Brook University Hospital, the level I trauma center for Suffolk County. She excelled in her role as a member of the Emergency Medical Services air and surface transport team, and was honored by the hospital for her many accomplishments including Emergency Nurse of the Year. Connie's dedication to the education and advancement of emergency nurses prompted her to become an instructor for a variety of related courses. She is currently on staff at Stony Brook University Hospital as the head of the Emergency Management Department. She has instructed various preparedness courses with the New York Consortium for Emergency Preparedness Continuing Education at Columbia University. Connie is also clinical assistant faculty at the School of Health Technology and Management at Stony Brook University where she oversees an internship program in emergency management. As an active member and multi-term president of the Suffolk County Chapter of the Emergency Nurses Association, she participates in developing educational programs for ED nurses. She is also an active volunteer in the Suffolk County Medical Reserve Corps. As the RTC coordinator, Connie assists the health care communities of Suffolk and Nassau counties, and the Lower Hudson Valley Region with their emergency planning and preparedness efforts. She provides training and education for hospital and healthcare personnel, develops and conducts drills and exercises, and assists with resource management and acquisition. She also represents the hospitals in the collaboration of activities with community partners including Police, Fire, Emergency Services, the Department of Health, and the Suffolk County Office of Emergency Management. As the leader of the Emergency Management team at Stony Brook University Hospital, Connie is consistently working with staff in order to achieve the highest level of emergency preparedness, and to mitigate the effects of disasters. In 2015, Connie was awarded with the Registered Professional Nurse of Excellence award in both Suffolk County and at the New York State level.
---
Col. Kevin Reilly
Col. Kevin Reilly (U.S. Air Force, retired) is a member of the Emergency Management Department at Stony Brook University Hopsitalthe Emergency Programs Manager for the Plum Island Animal Disease Center. He joined the Department of Homeland Security (DHS) in 2009 after a military career split between the Marine Corps, Air National Guard and Air Force Reserve. Reilly manages Plum Island's emergency preparedness plans and its rigorous training, testing and exercise program.
 
Prior to DHS, Colonel Reilly was an HC-130 Examiner Pilot, combat search and rescue (SAR) instructor, Squadron Commander, Operations Group Commander, Emergency Preparedness Liaison to FEMA, and a SAR Task Force Commander for the NASA space shuttle launches. He made numerous oversees deployments in support of Operations Desert Storm, Operation Southern Watch, Operation Northern Watch, and Operation Iraqi Freedom. Reilly logged 5800 flying hours and retired at the rank of Colonel in 2013. 
Mr. Reilly is an Ex-Captain from the Southold Fire Department where he previously volunteered as a firefighter and Emergency Medical Technician. Reilly also has paid EMT experience in a high-tempo coverage area. In addition to being a recent graduate of ALERRT AAIR Train-The-Trainer, Reilly is also an Incident Command System Instructor, CPR & First Aid Instructor, HAZMAT Technician, nationally-certified Fire Service Instructor, Opioid Overdose Response Instructor, and a Tactical Combat Casualty Care Instructor with the National Association of Emergency Medical Technicians. 
 
---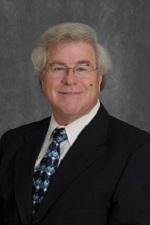 Kevin O'Hara, MS, EMT-P, CIC
Assistant Coordinator- MARO Regional Training Center
Office: Health Sciences Center, L1-093
Tel: 631-444 9632
Email: kevin.j.ohara@stonybrookmedicine.edu
About Me
Kevin J. O'Hara, MS, NRP, CHEP  is a member of our Emergency Management team and Assistant Coordinator for the Suffolk County Regional Training  Center. He has over forty years experience in providing pre-hospital emergency care and is a New York State and national certified Paramedic instructor. In addition, he serves as Regional Faculty for New York State Department of Health, Bureau of EMS and is responsible for training new candidates to become NYS certified EMS instructors. He was recently honored with the prestigious New York State's DOH Harriet C. Weber leadership award. For the past 15 years, Kevin has worked extensively with local departments of health, hospitals and health care agencies in developing, implementing and exercising emergency preparedness plans.  He presently sits on numerous disaster planning committees and has been the principle educator for the New York Consortium for Emergency Preparedness Continuing Education (NYCEPCE) at Columbia University. He holds a Bachelor of Business Administration and Master's Degree from Adelphi University and has completed a distinguished career in Federal Law Enforcement obtaining the rank of supervisory special agent. He has served over forty years as a Long Island firefighter and medical technician. 
---
Kerry Scribner
Administrative Assistant                                                                                                                                                                                   
Office: Health Sciences Center, L1-143
Tel: 631-444 1594
Email: kerry.scribner@stonybrookmedicine.edu
About Me
Kerry Scribner is a member of our Emergency Management team and Staff Assistant to the Assistant Administrator for the Emergency Management Department and the Metropolitan Regional Training Center. She holds a Business Degree from Empire State University and brings her many years of corporate experience to the Stony Brook Medicine Emergency Management Department. Kerry assists in all emergency preparedness planning and efforts, as well as resource management and acquisitions in order to achieve the highest level of emergency preparedness for Stony Brook Medicine.
---
MARO Training Center
Health Sciences Center
Level 1 Room 143
Stony Brook, NY 11794-8019