East End Hand Center, in collaboration with Stony Brook Medicine, is an orthopedic practice providing comprehensive hand care in Wading River, Port Jefferson, Southampton, Mattituck and the surrounding communities. In our practice, we are committed to using evidence-based medicine to help provide quality care that has its foundation in shared decision making with our patients. We are pleased to be part of The Center for Musculoskeletal Health on the East End, serving all of your orthopedic needs.
---
Our Physician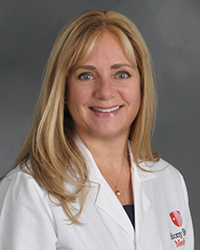 Teresa Habacker, MD, FAAOS, FASSH
Dr. Habacker is a board-certified orthopedic surgeon with an additional certification in hand surgery; this means that she subspecialized with an extra year of training in hand surgery. 
Dr. Habacker's interest in orthopedics was piqued by "Ring the Night Bell," the autobiography of Paul Magnuson, MD, an orthopedic surgeon who applied mathematics to medicine at the turn of the century and designed instruments and prosthetics to restore function for the wounded returning from the war. She studied biomedical engineering at Duke University, planning to apply this to her surgical training. Subspecializing in hand surgery was a natural fit. She has the opportunity to care for newborns and the aging, those with sports injuries and arthritic conditions, acute trauma and ongoing inflammatory conditions. It is an honor for her to apply her aptitude for mathematics and spatial relationships to her patients' care from all walks of life.
Dr. Habacker completed her medical degree at the Medical College of Virginia in Richmond, VA. She completed her surgical residency at SUNY Downstate Medical School in Brooklyn, NY and her orthopedic surgical residencies at Louisiana State University in New Orleans, LA and Long Island Jewish Medical Center in New Hyde Park, NY. Dr. Habacker then went on to complete a hand surgery fellowship at Thomas Jefferson University in Philadelphia, PA. She is an Assistant Clinical Professor and has admitting privileges at Stony Brook University Hospital, Catholic Health Services and Northwell Health hospitals in Suffolk County. 
---
Affiliations
American Academy of Orthopaedic Surgeons (AAOS)
American Society for Surgery of the Hand (ASSH)
Duke University Alumni Association
The Suffolk County Medical Society (SCMC)