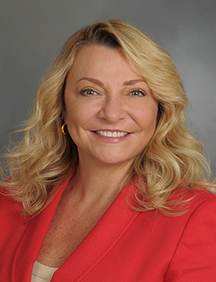 Katherine (Kathy) Ross has been selected as Stony Brook Medicine's new Chief Information Officer (CIO).

Ross comes to Stony Brook from Ascension Health, the largest nonprofit health system in the country and the world's largest Catholic health system, where she served as Market Chief Information Officer of Sacred Heart Health System in Pensacola, FL, and Providence Health System in Mobile, AL. There she was responsible for the IT needs for five hospitals, nearly 100 ambulatory clinical sites and healthcare facilities, and hundreds of physicians. In that role, Ross gained considerable experience with Cerner products and helped oversee the integration of multiple health information systems, resulting in increased function and cost savings.

As part of the leadership team of Stony Brook Medicine, Ross is responsible for the information technology for Stony Brook University Hospital and Stony Brook Southampton Hospital; the faculty practice, Stony Brook Medicine University Physicians; the community physician network, Stony Brook Community Medical; the developing clinically integrated network for the Delivery System Reform Incentive Payment (DSRIP) program; and the IT that supports clinical research at Stony Brook Medicine.

"Kathy brings with her a wealth of knowledge and experience from her years of working in a large healthcare system," said Kenneth Kaushansky, MD, Senior Vice President, Health Sciences, and Dean, Stony Brook University School of Medicine. "She will build on our existing strengths and accomplishments to advance our IT initiatives, so we can continue to provide high-quality care for our patients."

Ross will work closely with Joel Saltz, MD, PhD, Chair, Department of Biomedical Informatics, in pursuing innovative approaches to predictive analytics of a major modern healthcare network. She will also collaborate with Melissa Woo, Stony Brook University's CIO, and her entire Department of Information Technology, in shaping an educational information structure for the Health Sciences schools.

"I'm extremely excited to be working with such a progressive organization and look forward to helping accelerate Stony Brook Medicine in delivering healthcare throughout Long Island and beyond," said Ross.

Ross launched her career in healthcare information technology at Westside Regional Medical Center in Plantation, FL, where she served as Director of Management Information Systems/Telecommunications in a 200-bed community hospital. In 2001, she became Vice President and Chief Information Officer at Beaufort Memorial Hospital in Beaufort, SC.

Ross received her Bachelor of Science in professional studies, focusing on management information systems, from Barry University in Miami, FL, and then received a Master of Business Administration from Nova Southeastern University in Plantation, FL. She is a member of the American College of Healthcare Executives and the College Healthcare Information Management Executives.