More than 200 women attended Stony Brook Medicine's second annual Women's Health Day on Oct. 18, a half-day conference on health issues affecting women held at the Marriott in Melville.
Experts from Stony Brook Medicine provided information and helpful tips on topics ranging from cancer to weight loss. Keynote speaker Mariel Hemingway, Oscar nominated actress and granddaughter of Ernest Hemingway, spoke of her family's past struggles with mental illness and addictions and the tragic suicides that plagued them for generations. She inspired the audience with her own personal story of how she overcame depression, and strategies she uses to maintain a positive outlook on life.
The day started with a blood pressure and cholesterol screenings and a continental breakfast. Educational sessions featured a variety of Stony Brook Medicine experts:
Darragh Herlihy, NP-C, of the Stony Brook Bariatric and Metabolic Weight Loss Center, who presented on Weight Loss Options That Work.
Noelle Mann, MD, Co-Director of the Women's Heart Program at Stony Brook University Heart Institute, who spoke on Heart Disease Prevention Strategies.
Heidi Roppelt, MD, Director of the Osteoporosis Center, who spoke on Preventing and Living with Osteoporosis
Donna Donoghue, MD, a psychiatrist at Stony Brook Medicine, who delivered a talk on Dealing with Depression.
Barbara Mills, RN, DNP, Director of the Rapid Response Team, who gave an overview on Women and Heart Disease
Todd Griffin, MD, Chair, Department of Gynecology and Reproductive Medicine, who spoke on Going Through Menopause
Iris Granek, MD, Chair, Department of Preventive Medicine, who provided a session on Stress Management
Michael Pearl, MD, Director, Division of Gynecologic Oncology, Paula Denoya, MD, Colorectal Surgeon, and Patricia Farrelly, MD, Breast and Oncologic Surgeon, who spoke on Cancer Care and Prevention
Alexandra Cabble, Pharm D, Christine Clauss, Pharm D, and Amanda Waldeck, Pharm D, who provided information on Herbal Medications and Vitamins.
Ellen Li, MD, PhD, Division Chief, Gastroenterology and Hepatology, who spoke on Dealing with Digestive Issues
Antonios Gasparis, MD, Director, Stony Brook Vein Center, who spoke on Varicose Veins: Myths and Facts
Kimberly Belizar, PT, who led a session on The Benefits of Exercise
Donna Buehler, LCSW, who taught about Healthy Relationships.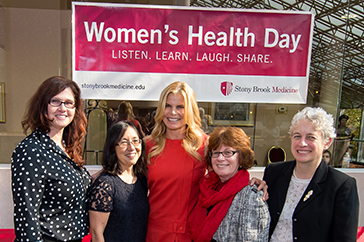 Women's Health Day Presenters and Keynote Speaker (pictured l to r):
Donna Donoghue, MD, Ellen Li, MD, PhD, Mariel Hemingway, Iris Granek, MD,
Donna Buehler, LCSW